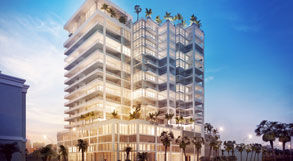 THE BLVD RESTAURANT:
Core Development Incorporated has completed construction of the Blvd Sarasota condominium project at the southeast corner of Boulevard of the Arts and Tamiami Trail in Sarasota, Florida. The project includes 49 luxury residential condominium units and 9,147 square feet of commercial space on the first floor overlooking Boulevard of the Arts.
Core Development is developing the Commercial Space as a fine dining restaurant.

A luxury gated golf club community with 233single-family home sites featuring lake and preserve views.The estate lots are sold out for record prices. A true world-class golf community with a Jack Nicklaus signature golf course co-designed in association with Tony Jacklin - the only one of its kind on Florida's Gulf Coast! The club also includes a 33,000 sqft golf clubhouse & expansive practice area.
Accolades
No. 3 in Florida in Golfweek.com list of top 100 U.S. Residential Courses and No. 29 in nation
No. 7 in Golf Digest's Best Courses in Florida (2018)
One of Golf Digest's Top 200 golf courses in America (2018)
No. 7 in Florida in top100golfcourses.com list (2016)
No. 8 in Florida on golfcourseguru.com's best courses list and No 201 in the world
No. 93 in Golf Week magazine's Top 100 Modern Courses in America (2017)
Travel & Leisure's Top 100 Golf Communities (2014)
Golf Digest
2006
Best New Private Golf Course (#1)
LINKS Magazine
2006/2007
America's 100 Premier Properties
Golf Digest
2007/2008
Best Golf Venues in Florida (#5)
Golfweek
2008
Best Modern Courses (#45)
Golfweek
2009
Best Residential Courses (#9)
GOLF Magazine
2009
Top 100 Courses in the US (#88)
Golf Digest
2009
75 Best Practice Areas (#69)
The Inspiration
The Concession™" commemorates one of golf's memorable moments and one of sport's great acts of sportsmanship.  The 1969 Ryder Cup at Royal Birkdale Golf Club in Southport, England was a heated competition in which nerves and tempers among several contestants on both sides appeared frayed. In the final singles match, U.S. Captain Sam Snead had called on rookie Jack Nicklaus, who had drawn Tony Jacklin, the toast of Great Britain after winning the British Open Championship earlier that summer. The crowd loudly supported Jacklin throughout the afternoon, causing Nicklaus to more than once back away from his ball in an attempt to regain his concentration. But Nicklaus never complained, and said later that he felt the burden was on Jacklin's shoulders heading into the final hole with the match even.
Nicklaus ran up to Jacklin after both teed off on the 18th hole, and put an arm around Jacklin's shoulders. "Hey, Tony. How do you feel?"

"Bloody awful," Jacklin said, trying to crack a smile. Nicklaus continued, "Just thought I'd ask, because if it's any consolation, I feel the same way."

With each facing birdie putts on the 18th, Jacklin putted first, rolling his ball some 2½ feet past the hole. Nicklaus followed by rolling his birdie attempt three to four feet past the hole. Hunched over in his characteristic stance, Nicklaus rolled in the par putt. As Jacklin stooped to replace his ball, Nicklaus stooped as well to pick up Jacklin's marker and offered his hand.

"I didn't think you would miss it," Nicklaus said, again draping an arm around Jacklin, "but I wasn't going to give you the chance." The Ryder Cup ended in a 16-16 deadlock, the first of only two ties in its history.
This act of sportsmanship inspired the development of "The Concession™".